[1]Run TunePat Amazon Music Converter on Mac and log in your Amazon Music account. Click Apple menu bar and click TunePat Amazon Music Converter > Resgister, then you will get the registration window. You can copy and paste the registration Email and Code into the registration pop up dialog.
[2]Fill the two blanks with your registration Email and license code that you have received from the email. Then click "OK" to register the program.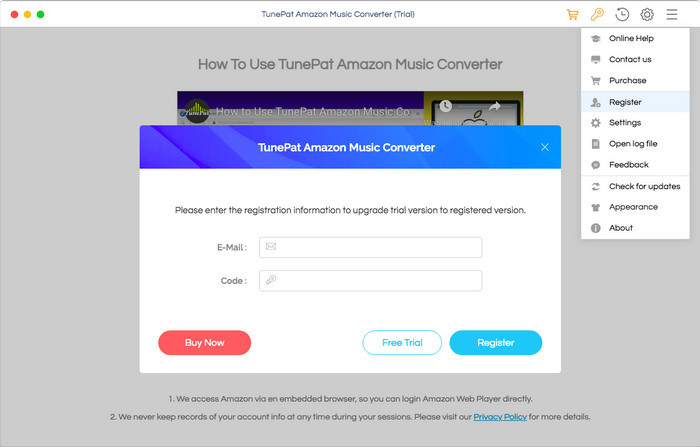 [1]The registration code is case sensitive. And, please do not add blank at the beginning or the end of the word. You can also copy and paste the Email address and Code into the registration pop up dialog.
[2]If you still get the error message, please contact our support team via [email protected] for help.
The trial version of TunePat Amazon Music Converter only allows trial users to convert 3 music files at a time and convert the first 1 minute of each song for sample testing. To unlock this restriction, please purchase a license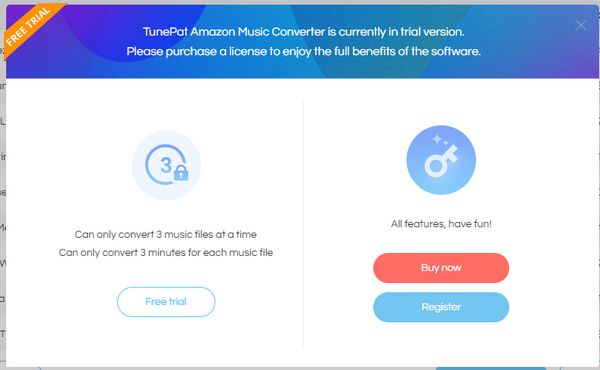 You can use TunePat Amazon Music Converter to download song, album, playlist, or podcasts from Amazon Music to MP3, AAC, WAV, FLAC, AIFF or ALAC format.
The songs downloaded from TunePat programs under Auto mode are in m4a format. This m4a is a large container, not a specific format. Auto mode means no format conversion, and the downloaded songs are consistent with the original format of the songs. And the original format of Amazon music is MP3.
In order to meet people's needs and provide a better service, TunePat offers 3 subscription plans. Below are something should be informed:
1. There are 3 types of subscription plans for your choice (1 month/ 1 year/ Lifetime). Your plan will determine how long you can use the program to convert music from Amazon Prime Music and Music Unlimited.
2. If you purchase a 1-month or 1-year subscription, to ensure the service, the two license types will auto-renew after 1 month or 1 year. If you don't need it anymore, you can cancel the next subscription at any time.
3. Each license can be used on one PC only.
4. TunePat commits a 100% money-back guarantee within 5 days for TunePat Amazon Music Converter 1-month & 12-month plan, and 30 days for the lifetime plan. For more details, please visit Refund Policy.
If you have other questions about the subscription, please read TunePat Subscription FAQ.
Of course, you can use TunePat Amazon Music Converter to convert the entire playlist, podcasts, artist, or album from Amazon Music.
Since macOS 10.15 Catalina introduces new security mechanisms, software from the internet or directly from an unidentified developer will be suspected as malware and failed to install on Mac. To deal with it, please follow How to Open TunePat on macOS 10.15 Catalina.
TunePat Amazon Music Converter does help maintaining Amazon HD sound quality. Ultra HD is not supported right now, however we will keep improving this function, so stay tuned.
This may be related to your poor internet speed. We suggest that you try re-upgrading or or go directly to our Download Center to find the appropriate program and download the latest version directly.
The latest version of TunePat Amazon Music Converter supports keeping the track number for albums. Please choose "Track Number" in the "Output File Name" tab of the Setting window. In addition, if you want to save the converted songs in the same order as the original playlist, please choose "Playlist Index".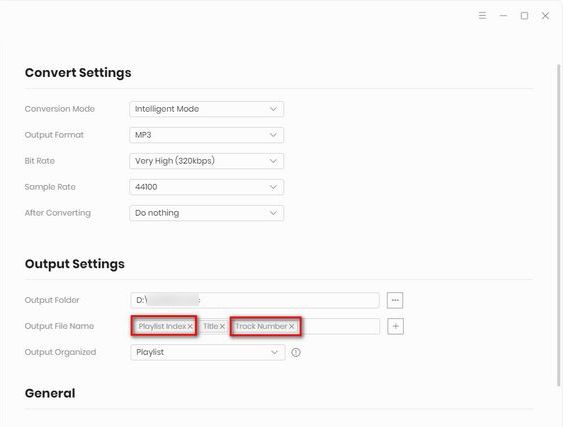 You can try the following steps below:
1. Click the Retry button to retry the conversion.
2. If you cannot solve the problem after retrying, check the network situation and try to play the failed song in the program or in the browser. If the playback is normal and the playback time can exceed 10 seconds, restart the program and try the conversion again.
3. If the problem still exists, please delete the program name directory under appdata (this operation will reset the program to its initial state), then try to convert again.
4. Still unable to convert? Please contact customer service via email and they will help you fix the issue ASAP.
Click on the Menu button in the top right hand corner of the TunePat Amazon Music Converter. Then select the Clear Cache option from the drop down menu that appears. At this point you will see you a pop-up window. Please select the Relaunch button in the pop-up window. Wait for the software to restart. The problem you are experiencing will then be fixed.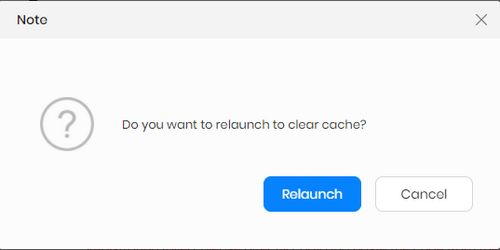 The solution to this problem is the same as for q13.
In order to better develop TunePat products and give users a better experience, we have adopted new technologies in the latest version, and will no longer be compatible with macOS 10.14 or lower.
If you cannot use the TunePat program for this reason, you can use one of the following solutions:
1. Update your macOS system to 10.15 or above, then download the latest version of the TunePat Amazon Music Converter to use. This is our most recommended solution.
2. To switch your license to a Windows computer, you can contact our customer service support team by email for help.
3. Download older versions that are still compatible with macOS 10.11-10.14. However, we still want to remind you that older versions may have some bugs that have been fixed in the latest version. Click here to download and install an older version compatible with macOS 10.11-10.14.
---
Note: If the above solutions still cannot fix your problems, please provide the following information to our support team via [email protected]. We will reply to your message within 24 hours on weekdays and 48 hours on weekends. And we will submit your feedback to our developers and inform you if the solution is available.
1. Please send us the detailed info of your macOS.
2. Are you a Prime Music user or Amazon Music Unlimited user? And which country/region does your Amazon Music account belong to?
3. What is the output format you choose?
4. Did the problem happen to a certain audio file or to all audio files?
5. Please send us the log files. You can find them by going to the program, click the Menu button (on the upper right corner) > Open log file. You will see a logs folder, please send us all the files in this folder. (If the program crachs during the conversion process, please also send us the crash log. You can find a file named "TunePat xx Music Converter + your crash time" via Launchpad > Console app.)