How to Stream YouTube Music on Apple Watch
Google had shut down its operation on Google Play Music to be replaced by YouTube Music. Here you can find the latest songs, playlists, and albums as your preference. And if you are an Apple Watch user, the good news is that you can listen to YouTube Music with the launch of the YouTube Music app for the Apple Watch. Whether you're out for a run, riding your bike, or cooking, the YouTube Music app on the Apple Watch will put music controls within easy reach.
However, to use the feature above, you need to meet some requirements. You should be in subscription to a YouTube Premium or a YouTube Premium account. If you are a free user of YouTube Music, don't be worried about it and in this section, we will explain how to install and play YouTube Music on your Apple Watch in brief.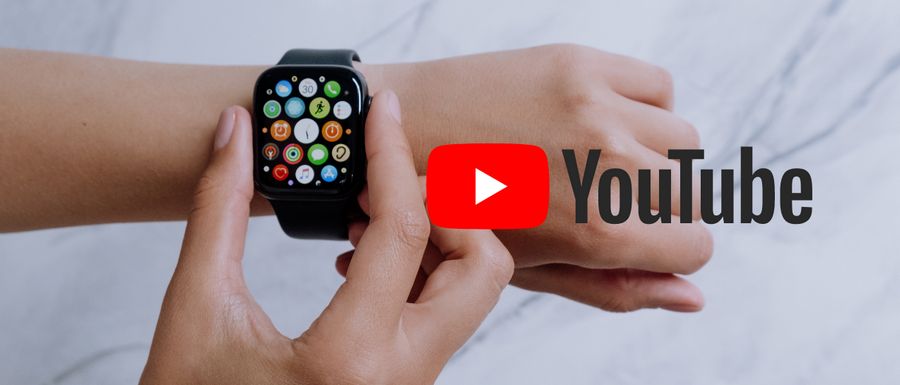 Part 1. Play YouTube Music on Apple Watch with Official Method
To play YouTube Music on your Apple Watch with the official method, the first thing you should do is to install the YouTube Music app onto your Apple Watch. Also, you need to be aware that an Apple Watch, an iPhone, and a YouTube Music Premium account are necessary. And your Apple Watch should be newer than Series 3 and the system should be WatchOS 6 or above. Here are the detailed steps:
Step 1 Directly install the YouTube Music app from the App Store of your Apple Watch.
Step 2 After installation, run YouTube Music on your Apple Watch.
Step 3 Apple Watch starts with two menus, which are the Now playing and the Library sections. And the Library part is where you can find out the music you like and add them to the playlist.
Step 4 You just need to select the song that you want to play. You can freely forward, backward, or pause the music here. Since Apple Watch does not currently support offline YouTube Music playback, you can only stay online to enjoy YouTube songs.

Part 2. Listen to YouTube Music on Apple Watch Without iPhone
As you know, the YouTube Music app on Apple Watch makes it easier to control and play music. But unfortunately, if just using your Apple Watch, you can't currently listen to the music you want offline without an internet connection. If you can live with this limitation and are willing to wait, you can expect to use the YouTube Music app to listen to songs offline on your Apple smartwatch in the near future.
But if you need to listen to songs offline right now, you can consider another option. Apple Watch enables us to add our music library to Apple Watch with a maximum storage capacity of 2 GB. In this way, you can choose to download your wanted YouTube songs onto your computer as local files, then you can upload those tracks to your watch for offline streaming without using an iPhone.
Like other hot music streaming services, songs on the YouTube Music library are all under protection. The most important question now is how to lift this restriction. TunePat YouTube Music Converter is an awesome music converter for YouTube Premium or Free users, solving your urgent needs. It is a smart YouTube songs grabber that is fully compatible with both Windows & Mac systems. Given different needs, TunePat provides all users with flexible output settings and ensures a super fast conversion speed.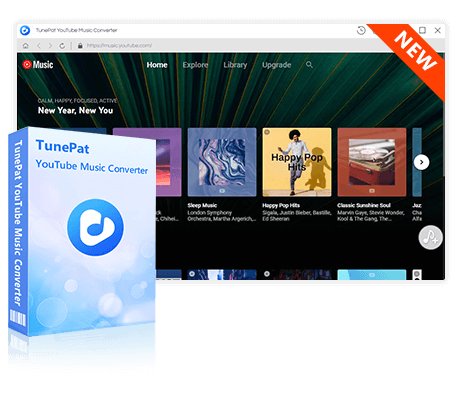 TunePat YouTube Music Converter
TunePat YouTube Music Converter is an easy-to-use music converter optimized for YouTube song conversion. Grab, download, and convert YouTube content with ease.
Download songs, music videos, albums, playlists, and podcasts from YouTube Music.
Convert YouTube Music to MP3, AAC, WAV, FLAC, AIFF, or ALAC.
With tools available for changing output format, burning CDs and editing ID3 tags.
Download YouTube Music with a free account without ads.
Keep ID3 tags and lossless output quality after conversion.
Suitable for multiple scenarios, such as use on the Apple TV, import to various DJ programs, etc.
Click on the Download button above to install the right version of TunePat YouTube Music Converter onto your computer. Now please refer to the step-by-step tutorial below to learn how to download music from YouTube and then import them to Apple Watch for listening offline.
Step 1 Login to Your YouTube Music Account in TunePat
To begin, launch TunePat YouTube Music Converter. Upon opening the software, you will be presented with the main interface and the embedded YouTube Music web player within TunePat. In case the web player doesn't appear automatically, you can manually open it by clicking the "Open the webplayer window" button on the home page. Then, click the "Sign in" button in the YouTube Music web player to complete the login process for your YouTube Music account.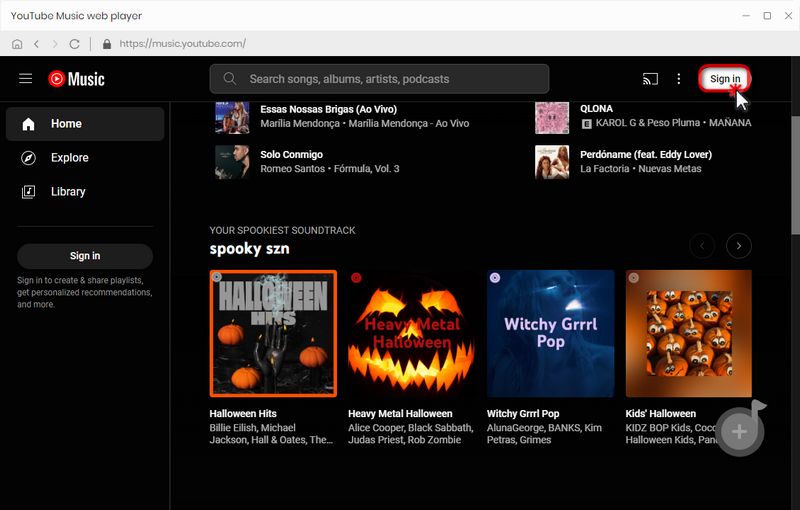 Step 2 Configure Output Format for the Converted Songs
Before selecting a song to convert, navigate to the "Settings" panel located in the lower left corner. Here, you can adjust various output parameters such as the output format, sound quality, file path, file name, appearance, language, and more. Additionally, you can organize the output files according to your preference, simplifying the management of your local music library.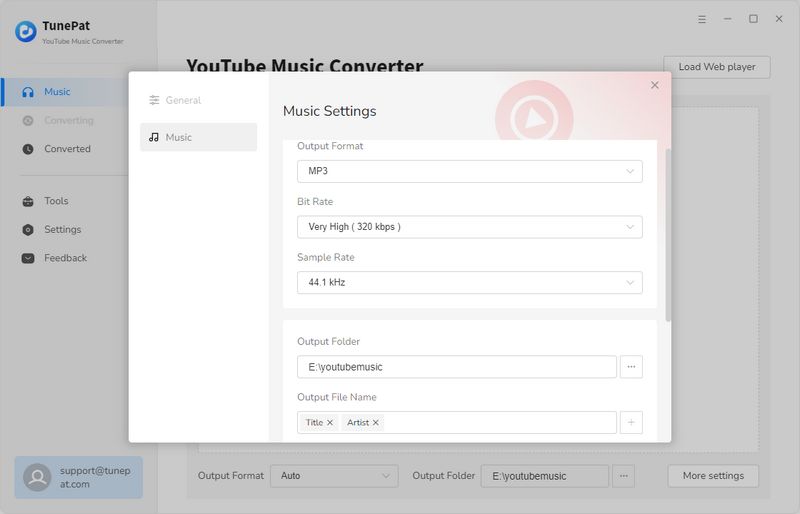 Step 3 Add the Desired YouTube Music to TunePat for Conversion
Next, open the song, playlist, album, or podcast that you want to download from YouTube Music and transfer to your Apple Watch for playback. Then, click the "Click to add" button situated in the lower right corner. By doing so, TunePat will automatically detect all the songs on the page and display them in a pop-up window. Simply select the songs you wish to convert and click "Add" to include them on the main conversion page.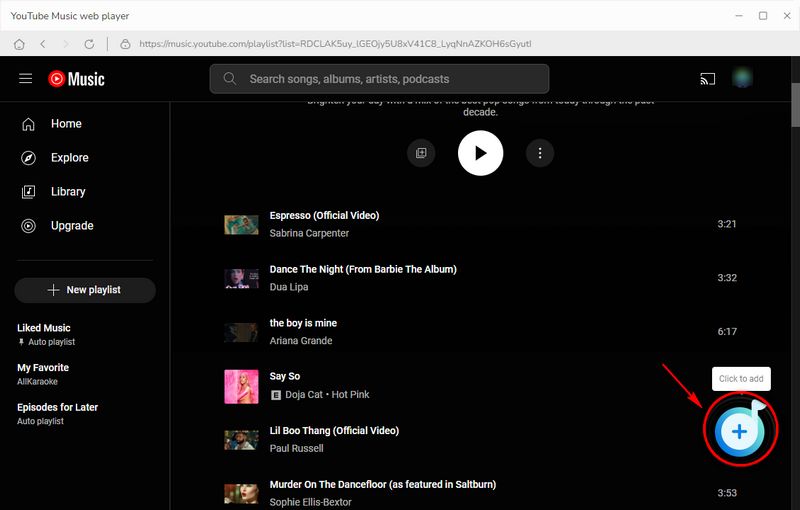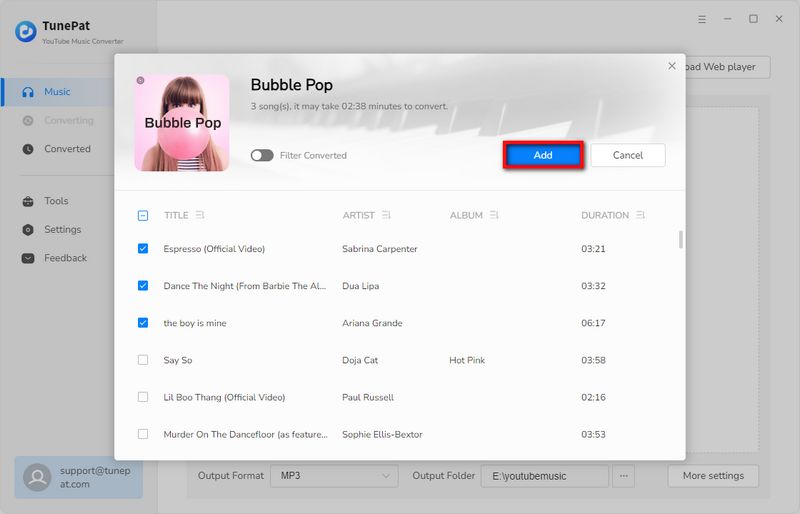 Step 4 Convert the YouTube Music Files on Your Computer
On the conversion page, if you want to add more tracks for conversion, click the "Add More" button. This will take you back to the web player, enabling you to browse and select additional songs. Once you've chosen the desired songs, click "Convert" to initiate the conversion process immediately.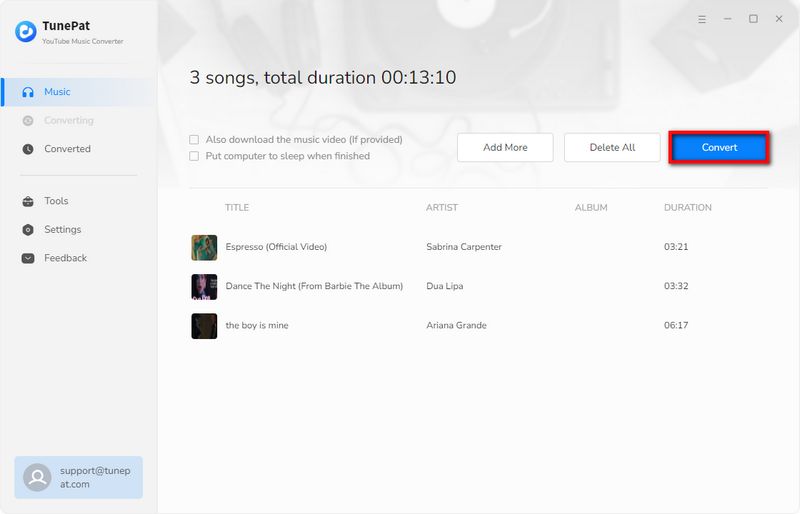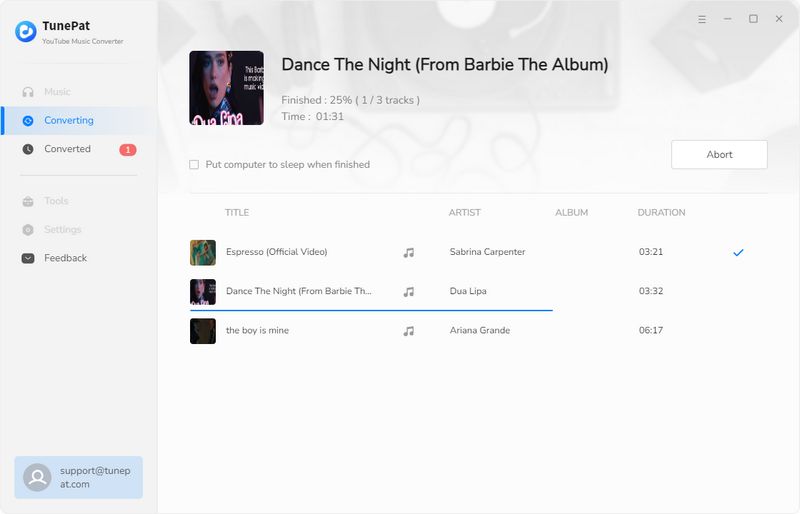 Step 5 Transfer the Converted YouTube Music to Your Apple Watch
Please wait patiently until the conversion is complete. You can find and play the converted YouTube songs in the "Converted" module.
These songs are saved in the output path you selected. To sync the converted YouTube Music to your Apple Watch, follow these steps:
① Open iTunes and select "File" > "Add to Library" to transfer the converted YouTube songs from your computer to iTunes.
② Connect your iPhone to the computer using a USB cable. Open iTunes and navigate to your Apple phone screen. From the menu, choose "Sync Music" > "Sync Entire Library" to sync the songs to your iPhone.
③ Enable Bluetooth on your Apple Watch. Then, access the "My Watch" app on your iPhone and go to the Music section. Tap "Add Music" to transfer the YouTube Music onto your Apple Watch.
Conclusion
After reading this article, you have a clear idea of how to install the YouTube Music app on the Apple Watch and play songs. Even for paid users, the Apple Watch doesn't currently support offline listening to YouTube music. And TunePat YouTube Music Converter helps you realize the desire to listen to YouTube songs anytime and anywhere. And this also applies to all kinds of different users, free users, paid users, or paid users who are about to cancel their subscriptions. Act now! Don't hesitate! You will get a free and casual music experience!