4 Ways to Download Spotify Music to MP3
As one of the popular streaming music services, Spotify offers a massive music library that covers 100 million songs and continuously provides high-quality music, audiobooks, and podcasts. For Spotify Premium users, you can listen to music offline, but you are not allowed to transfer the downloaded songs to MP3 players since the downloaded Spotify songs are all DRM (Digital Rights Management) protected.
However, this article will show you 4 ways to download songs from Spotify to MP3, and then you can free enjoy the Spotify songs on an MP3 player, Sony Walkman, smartphone, or any other mobile device.
Part 1: Convert Music to MP3 from Spotify Web Player - TunePat Spotify Converter
TunePat Spotify Converter is a simple yet powerful Spotify downloader. It can easily convert Spotify songs, albums, playlists, and podcasts to MP3/AAC/WAV/FLAC/AIFF/ALAC at 10X fast conversion speed with lossless output audio quality while keeping the ID3 tags after conversion.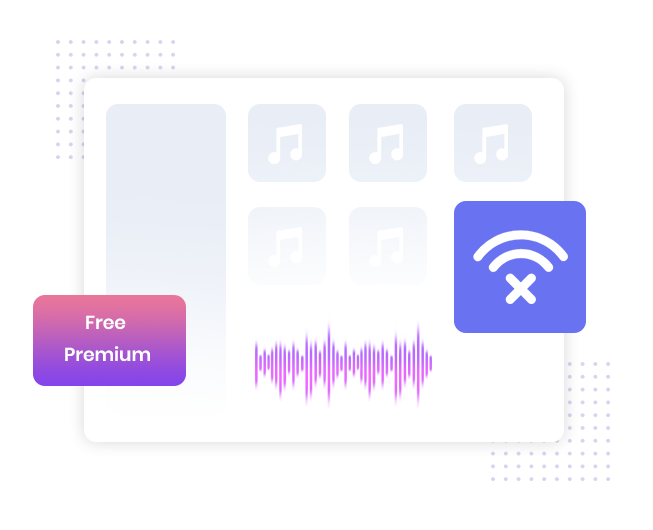 TunePat Spotify Converter
TunePat Spotify Converter enables users to convert and get Spotify songs or podcasts from the Spotify web player and then save them permanently.
Download songs, albums, playlists, podcasts, and lyrics from Spotify.
Convert Spotify songs to MP3, AAC, WAV, FLAC, AIFF, or ALAC format.
Easily download ad-free Spotify music tracks to the local computer.
Keep ID3 tags and preserve lossless audio quality.
Converted Spotify songs can be played offline on various devices (such as Panasonic Smart TV, iPod, etc.) at any time.
The most distinct feature of TunePat Spotify Converter is the simplified operation steps, it will help download and convert Spotify songs to MP3 in three simple steps: select Spotify songs, choose the output format as MP3, then click the "Convert" button to export them as MP3 files on your local computer.
First, you need to choose a conversion mode, the two modes export Spotify content from the Spotify app or embedded Webplayer respectively. The way of acquiring music files and the conversion speed of the two are slightly different. We will introduce it in detail later. In this part, we will first introduce how to use the Webplayer mode to directly obtain and convert Spotify music to MP3 format without the Spotify app.
Step 1 Let's get started by selecting the Webplayer mode, and the embedded Spotify web player window will appear automatically. In case it doesn't, you can manually open it by clicking the "Open the webplayer window" button on the Home interface.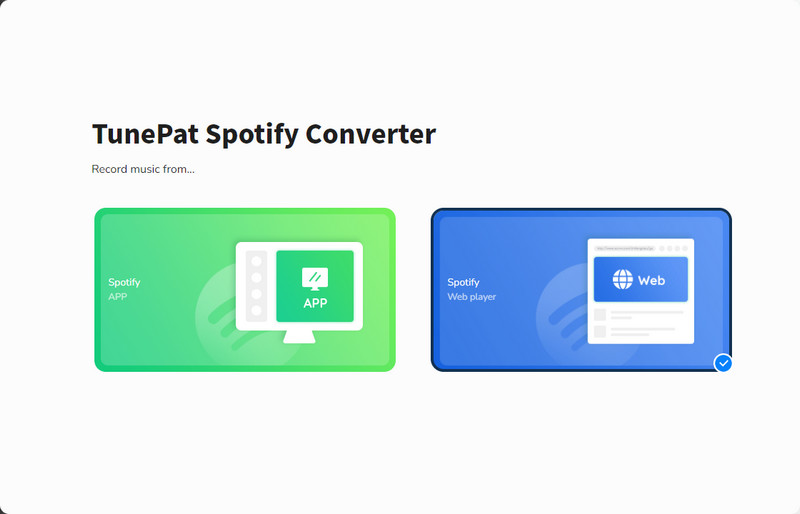 Once you're logged in to your Spotify account within this window, you'll enjoy seamless access to the Spotify library.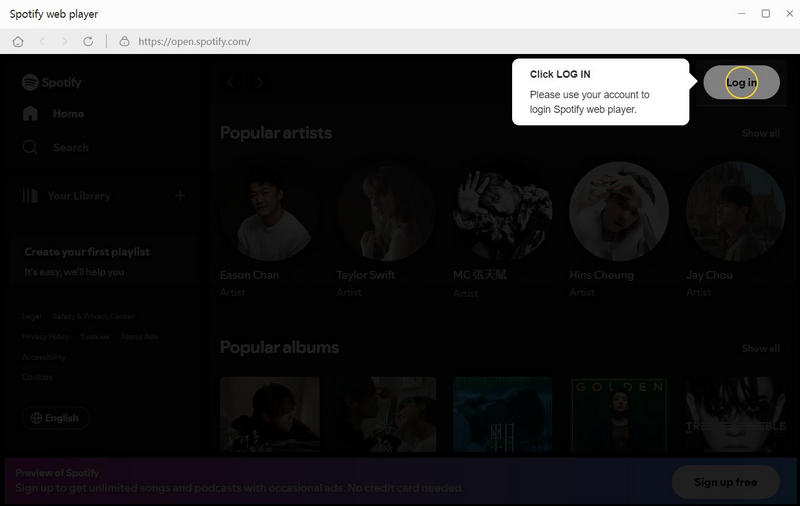 Step 2 Search for your desired song, artist, album, playlist, or podcast using the search box or by browsing. When you find what you're looking for, click the "Click to add" button on the lower right, and TunePat will promptly scan the songs/episodes on the current page.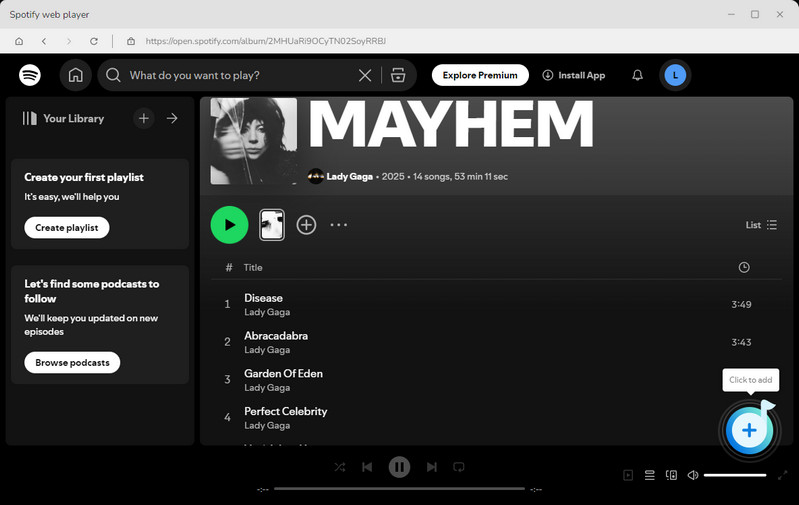 Choose the items you wish to convert, and with a click of the "Add" button, they'll be added to the Home interface, ready for conversion.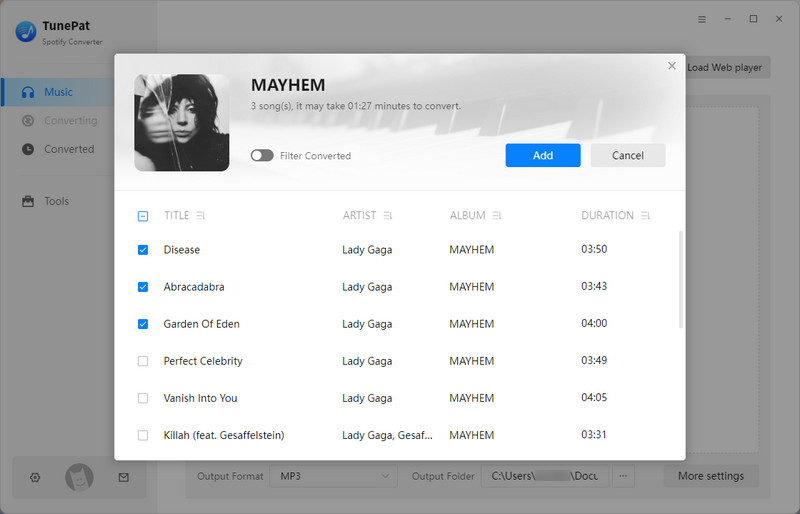 Step 3 Before downloading any music, it's essential to check the default output settings. For further customization, click the "Settings" button in the lower left corner. From there, you can fine-tune various options such as conversion mode, output format, bit rate, sample rate, output folder, output file name, and more. Opt for the "MP3" format.
If you want your downloaded songs to match the original playlist order, select "Playlist Index" in the Output File Name setting, and choose "None" in the Output Organized setting.
Step 4 Now, when you click the "Home" button, you'll find your selected Spotify songs listed here. Ready to get converting? Just click "Convert" and let the process begin instantly.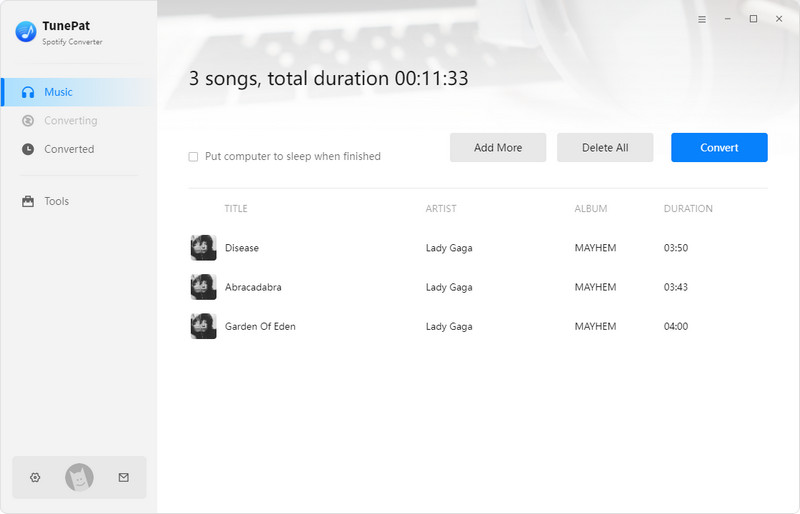 Step 5 Once the conversion is done, you can find your downloaded Spotify music tracks by clicking the "Converted" button on your left-hand toolbar. You are allowed to move the converted titles to iTunes or burn them to CD directly on this part.
You can also directly go to the output folder you customized in the previous step. Then you will see all Spotify songs downloaded as MP3 files with perfect audio quality. Now you can enjoy Spotify songs on an MP3 player for offline listening.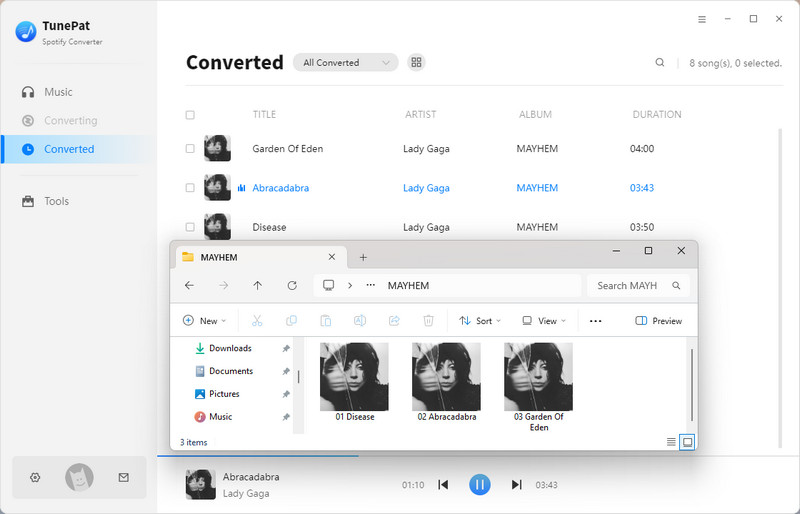 After converting, you get more than you think:
Listen to Spotify songs, albums and playlists offline on audio players, like MP3 players, Sony Walkman, car audio player, Sonos speaker, etc.
Transfer Spotify songs to USB flash drive/ memory card.
Play Spotify music on iPhone, iPad, iPod, Android, and any mobile phone.
Sync Spotify songs to Apple Watch, Fitbit Versa.
Use Spotify music for mixing on DJ software like Traktor DJ, Serato DJ, Virtual DJ, etc.
Burn Spotify music into CD to build your own music collection.
Enjoy Spotify music offline without the Spotify app.
Transfer Spotify playlists to Apple Music, Amazon Music, Tidal, Deezer, etc.
Enjoy your favorite Spotify playlist without a 5-device limitation.
Create Spotify music as a phone ringtone or text tone.
Use Spotify songs as background music for video editing.
---
Part 2: Convert Music to MP3 from Spotify App - TunePat Spotify Converter
In the top left corner of the program, you'll find a toggle button that allows you to switch between web player mode and app mode.
Step 1 When you select the App mode, you'll benefit from better audio quality. Meanwhile, you can get a conversion speed of 1X/5X/10X on Windows and 1X on Mac. To use app mode, ensure you have the Spotify app installed on your computer. If not, TunePat will prompt you to either install it or use the web player mode. Before adding Spotify songs, log in to your Spotify account within the Spotify app.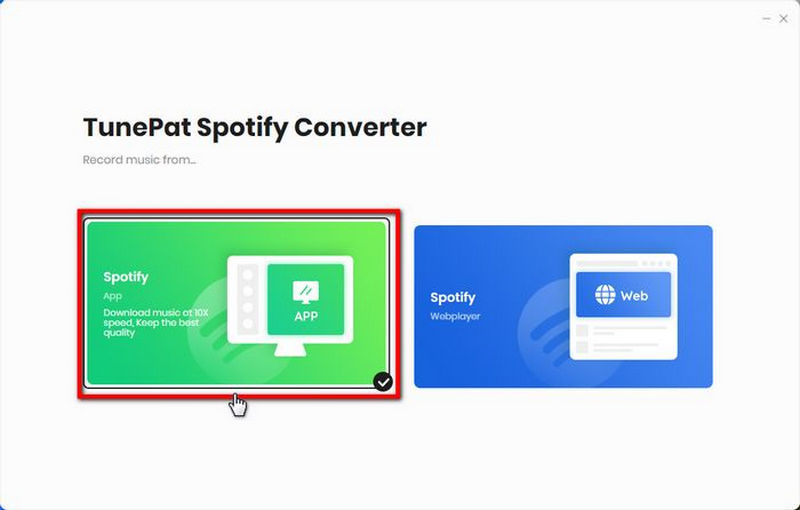 Step 2 Now, there are two ways to process Spotify songs. One method involves clicking on the cover of the song, album, playlist, or podcast you want to convert within the Spotify app. Then, drag and drop it into the "Drag the music here" area on TunePat's Home page. The program will automatically recognize and read the content once you release the mouse. Alternatively, you can copy and paste the link of the target Spotify music into the designated blue area on the right and click the "+" button to initiate the parsing process.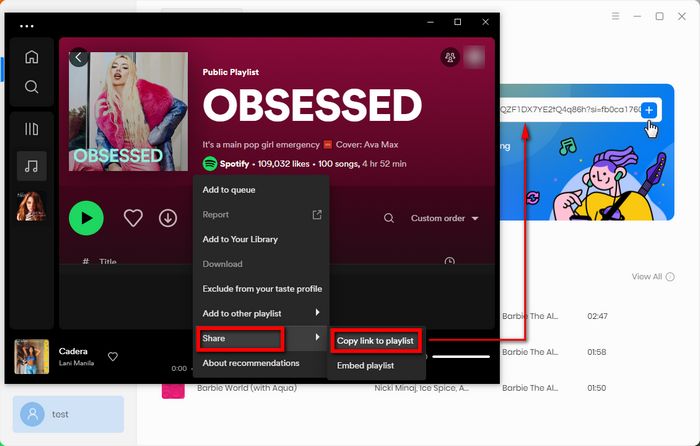 In this interface, all titles will be pre-checked by default, but you can manually select or deselect them as per your preference. Once you've made your selections, click the "Add" button.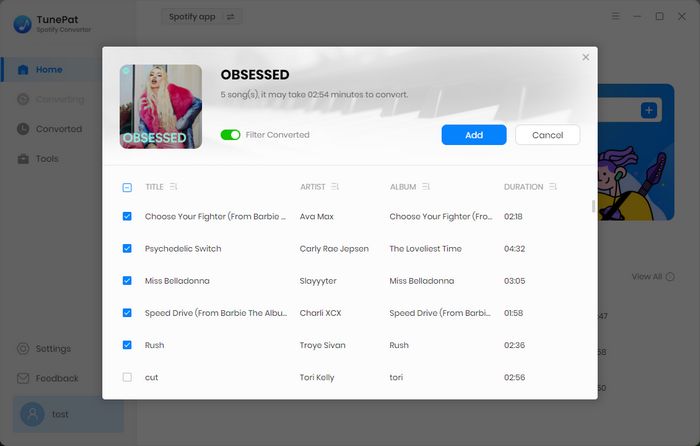 Step 3 Before you commence the conversion, head over to the "Settings" module. Here, you can customize various output parameters. Set the output format to MP3 and adjust other options like bit rate, sample rate, output folder, output file name, etc.
Keep in mind that the Conversion Mode option within the app mode's Settings interface differs from the web player mode. Here, you'll find options like Intelligent Mode, Spotify Record, and YouTube Download. When you choose "Spotify Record", you can customize the conversion speed, ranging from 1X to 10X. If the network speed is subpar, it's advisable to slow down the speed to ensure the quality of the output file.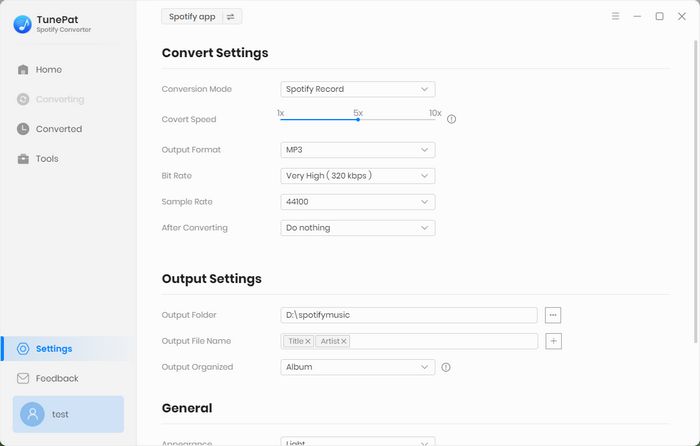 Step 4 Once you've finished configuring the settings, return to the Home page, where all your chosen songs are listed. To begin the conversion process, simply click on the "Convert" button.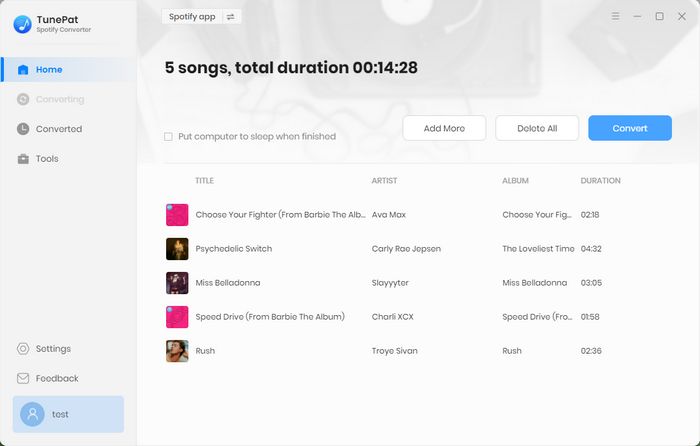 Step 5 Now, exercise a little patience and wait until the process is complete. You can then locate the Spotify MP3 downloads in the output folder you've designated. Now, you have the freedom to play, edit, or transfer these Spotify files as you wish.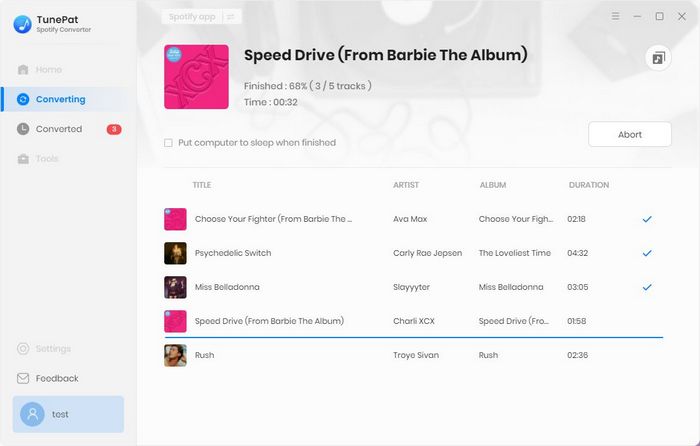 ---
Part 3: Record Spotify Music to MP3 - AudiCable Spotify Recorder
AudiCable Audio Recorder is a powerful and comprehensive streaming music downloader. In addition to converting Spotify Music to an MP3, AAC, FLAC, WAV, AIFF, ALAC format, it also supports downloading music from other streaming media platforms, including Tidal, Amazon Music, YouTube Music, Apple Music, Line Music, Deezer, Pandora, SoundCloud, and etc.
Step 1 Install AudiCable Audio Recorder
This AudiCable Audio Recorder is needed to be downloaded and installed first. It's a safe music tool without ads and plugins. After its installation, you can start.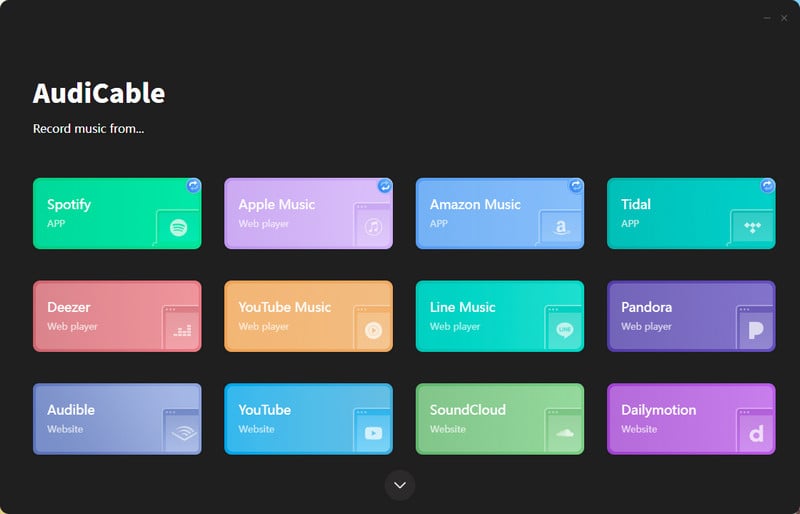 Step 2 Customize the output settings of Spotify songs
Generally, we will set up output format ( MP3, AAC, FLAC, WAV, AIFF, ALAC), output quality (128kbps, 192kbps, 256kbps, 320kbps) and output path in advance. On the main interface of AudiCable, you can find a "setting icon" on the top right. Click it and set up the parameters manually. Since you want to convert Spotify music to MP3 songs, you need to set the output format as MP3. Then close the pop-up window to apply the changes.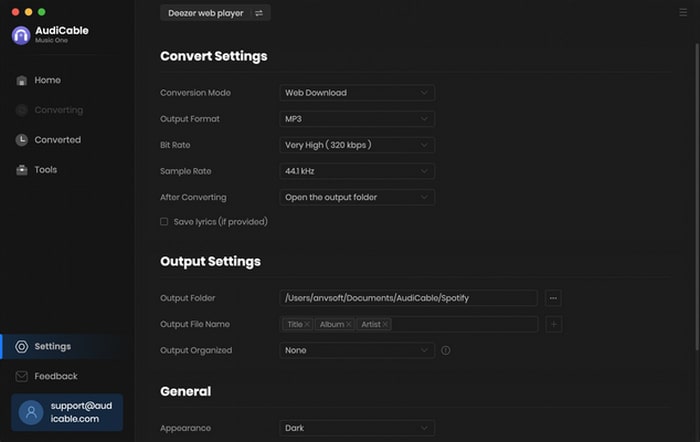 Step 3 Download Spotify songs as MP3 songs
Start Spotify on the primary interface. Start playing a song on Spotify or choose a music album to play. As soon as you play the song, AudiCable will start recording simultaneously. All recorded songs are saved as MP3 formats as you set before. If you want to mute the sound and just download Spotify music in the background, you can go to the upper right, and tap the "sound" icon

to switch to mute.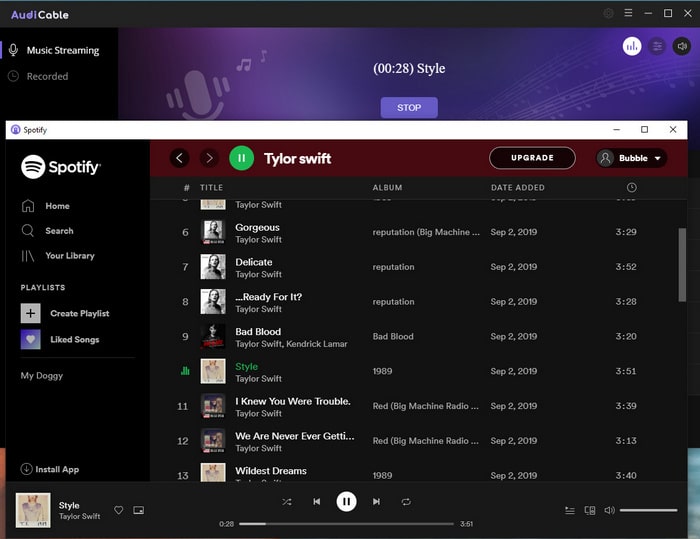 ---
Part 4: Spotify to MP3 - Free Solutions
AllToMP3 is free-to-use software that performs the bare minimum functions required to convert Spotify music to MP3. You can convert a Spotify file to MP3 or download a Spotify track in two simple steps. Import the Spotify tracks you want to convert and select 'Convert' to execute the task.

Step 1 Download the right version of AllToMP3 Spotify to MP3 app according to the operating system of your device.
Step 2 Open the Spotify Web Player or Spotify desktop or mobile app, and browse the music or playlists that you'd like to convert to MP3.
Step 3 Copy the track URI and paste it into AllToMP3 Spotify MP3 converter free. When you press the Enter tab, it will start to convert Spotify songs, and playlists to MP3 for free.
---
Part 5: Frequently Ask Questions about Converting Spotify to MP3
Q1: Why do you need a Spotify to MP3 converter?
For Spotify free users, you can only listen to Spotify music online with ads; With a Premium account, you can download 10,000 songs to 3 devices, each device has about 3333 songs; However, the downloaded Spotify songs are protected by Digital Rights Management and encoded in OGG Vorbis format. The worse thing is once you are offline for more than 30 days, Spotify will delete the offline content; So basically, you can only listen to Spotify songs within the Spotify app unless you can convert them to a normal audio format like MP3.
Q2: Do I need Spotify Premium to download Spotify to MP3?
For the TunePat Spotify Music Converter, both Spotify Free & Premium accounts are supported to download songs from Spotify to MP3 and other formats.
Q3: How is the output music quality of Spotify MP3 downloads?
According to Spotify, free users are limited to 160kbit/s (128kbit/s on web player), and Premium users can stream up to 320kbit/s (256kbit/s on web player). TunePat Spotify Downloader allows you to download songs with original quality (up to 320 kbps).
Q4: Can I download and convert Spotify to MP3 on Android/iPhone?
There are no applications to download Spotify music/playlists on Android or iPhone unless you are a Premium user. But you can choose one of the above 4 ways to download Spotify songs to your local computer and then transfer Spotify MP3 files to mobile devices for playback. It's easy to do that via a WiFi network or a USB cable.
Q5: Can you put music from Spotify on a USB flash drive?
You cannot directly put music from Spotify on a USB flash drive and playback it because of the DRM. However, you can download and convert the songs to MP3, and then you can transfer the Spotify songs to a USB flash drive.
---
Conclusion
The popularity of Spotify is undeniable. It harbors one of the largest music galleries, wherein music fans can easily find songs and albums that they like. However, there is still inconvenience since Spotify will not allow users to play music offline on their preferred devices, such as MP3 players. Fortunately, you can convert Spotify songs to MP3 via the four solutions we provided. All the above tools offer a unique set of features that help you capture Spotify podcasts, audio, and playlists in MP3 format for your offline listening pleasure. As for our recommendation, if you are looking for a fast Spotify to MP3 converter that is stable, safe, and easy to use, then TunePat Spotify Converter will suffice.