TunePat Tidal Media Downloader is a perfect music downloader and converter, devoted to helping users download tracks, playlists, and albums and convert the music from Tidal to a common format such as MP3, AAC, WAV, FLAC, AIFF, or ALAC format. Without installing the app, it can convert Tidal songs at 10X faster speed and save the music with HiFi audio quality on your computer. Have a quick look at how to register TunePat and how to use it to convert music on your computer.
How to Register TunePat Tidal Media Downloader for Windows
TunePat has a user-friendly interface and it is quite easy to register for the program. After purchasing, you will receive a confirmation email, including your registration information.
Step 1 Click the

icon on the upper right corner of the screen and click "Register" to open the registration window below and complete the registration process. Or you can directly click the "Register" icon on your left hand side to open the registration window.
Step 2Then copy and paste the registration Email and Code into the registration window. Select "Register" to confirm.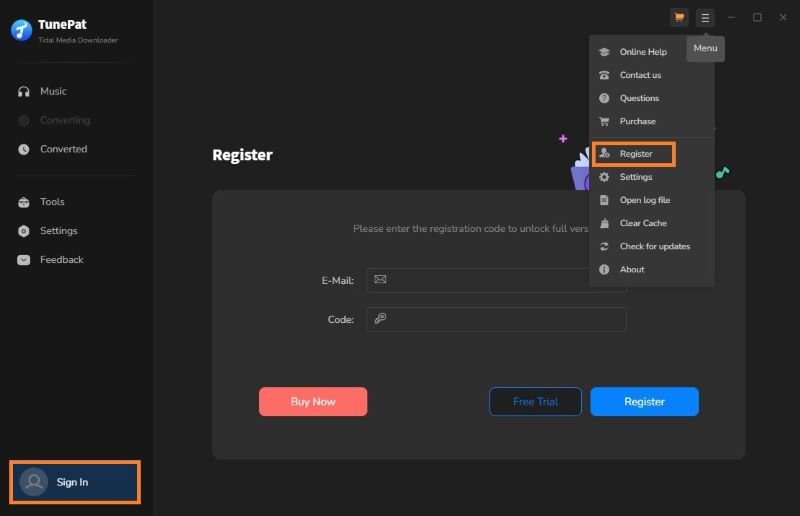 Note: The registration code is case-sensitive. Please do not insert any blank before or after the registration information.
---
How to Use TunePat Tidal Media Downloader to Get Tidal MP3 Downloads
Step 1 When you launch TunePat Tidal Media Downloader, you will be greeted with two pages: the main interface and the integrated Tidal web player that opens automatically within TunePat. In case the web player doesn't appear automatically, you can manually open it by clicking on the blue section of the main interface or using the "Open the webplayer window" button.

Within the Tidal web player window, follow the on-screen instructions and click the "Log In" button to enter your Tidal account information. Once you have successfully logged in, you will gain access to Tidal's extensive music library.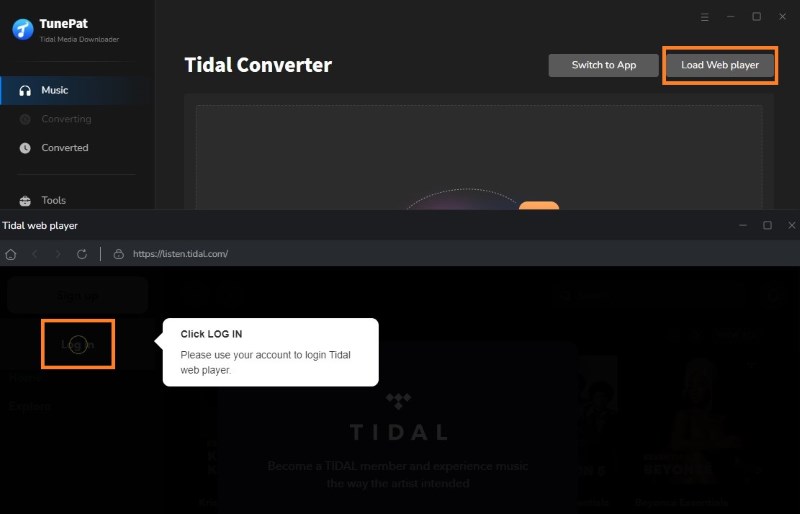 Note: TunePat will not take any information out of your account.
Step 2To export and save Tidal Music tracks according to your preferences, you need to access the Settings interface and select the necessary parameters. By default, TunePat will output Tidal songs in an unprotected AAC or FLAC format, unless you modify the settings.
The "Settings" interface allows you to customize various options, such as the conversion mode (Intelligent Mode, Web Download, YouTube Download), output format (MP3, AAC, FLAC, WAV, AIFF, ALAC), output sound quality, output path, and whether to enable automatic pop-up windows after conversion. Moreover, you can choose how to name Tidal music files and organize them based on your requirements.
After adjusting the settings to your liking, navigate to the Tidal web player interface and select the songs you wish to convert.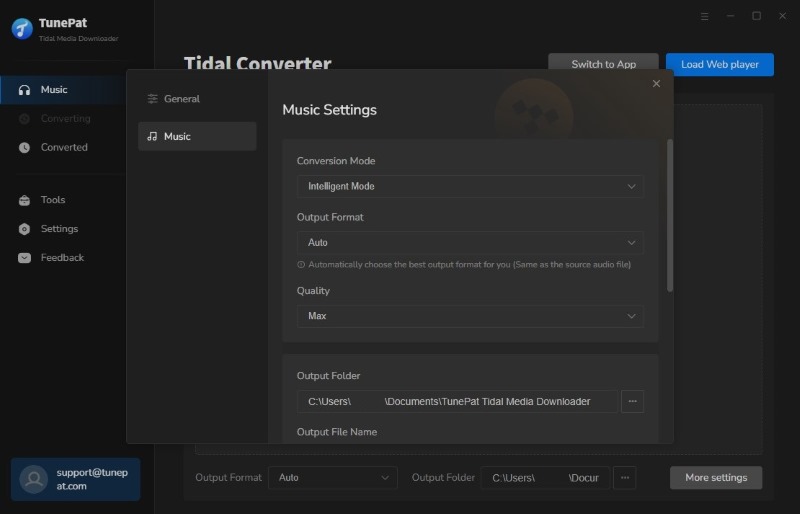 Tips: If you wish to export Tidal Music with HiFi audio sound, please select Auto mode. If you select other formats, like MP3, the highest quality should be 320 kbps.
Step 3 Once you have completed the settings, you can search for or directly open the Tidal music you want to convert. Click the "Click to add" button in the lower right corner to let TunePat detect these songs automatically.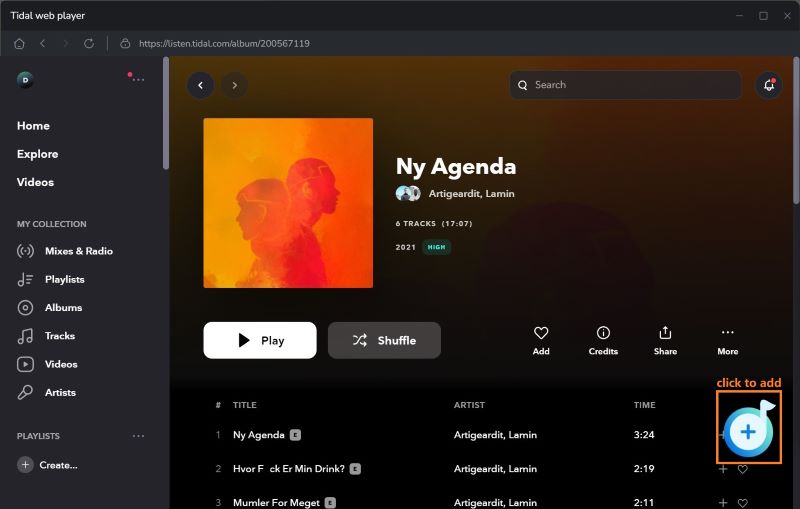 Step 4 TunePat will identify the selected titles and display them in a pop-up window on the main page of TunePat Tidal Media Downloader. By default, all items are selected, but you can manually deselect the ones you don't want. Then, click the "Add" button to add these songs to TunePat.
Note: If necessary, you can manually select songs or click the "Filter Converted" button in the upper left corner to filter out songs that already exist in the current local path, avoiding duplication.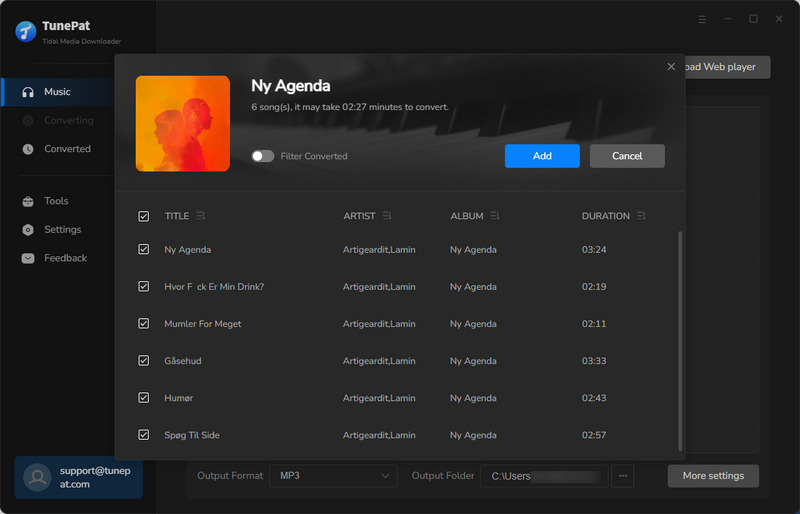 Step 5 Next, you have two options:
Click the "Convert" button to initiate the conversion process immediately.
Select the "Add" button to continue choosing songs from other playlists or albums.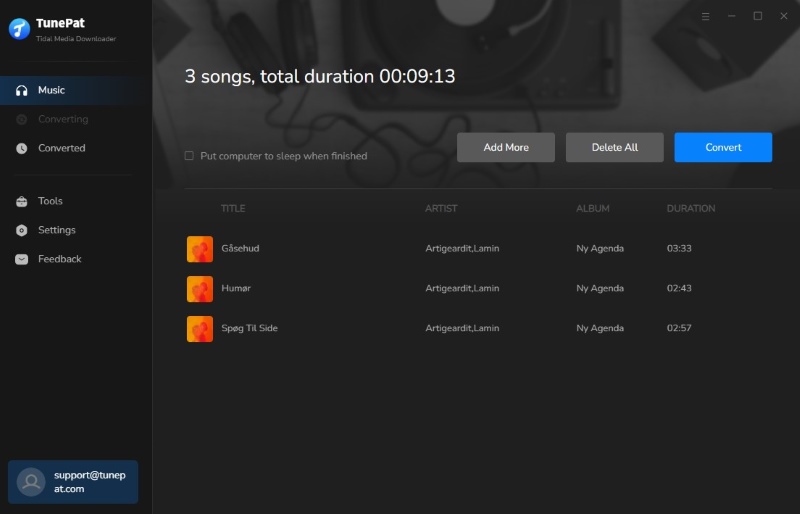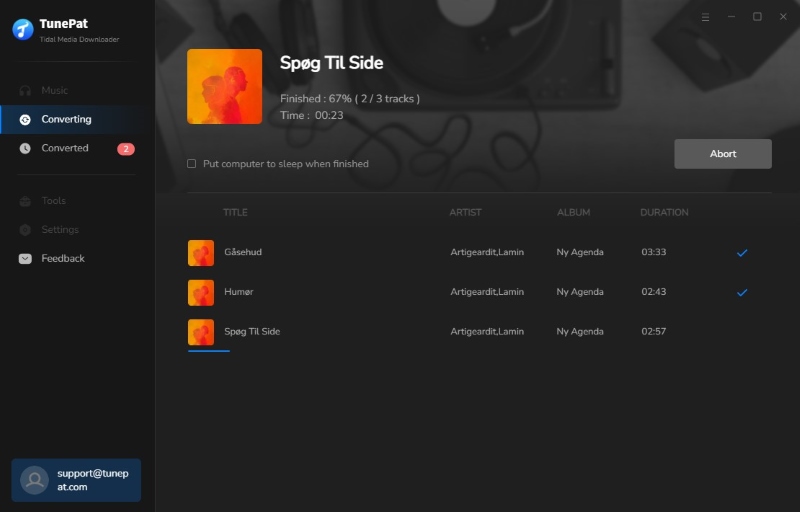 Step 6 Once the conversion is complete, you can click on the "Converted" option to locate the successfully converted Tidal songs on your local drive. From there, you can also select songs and transfer them directly to iTunes or burn them to a CD.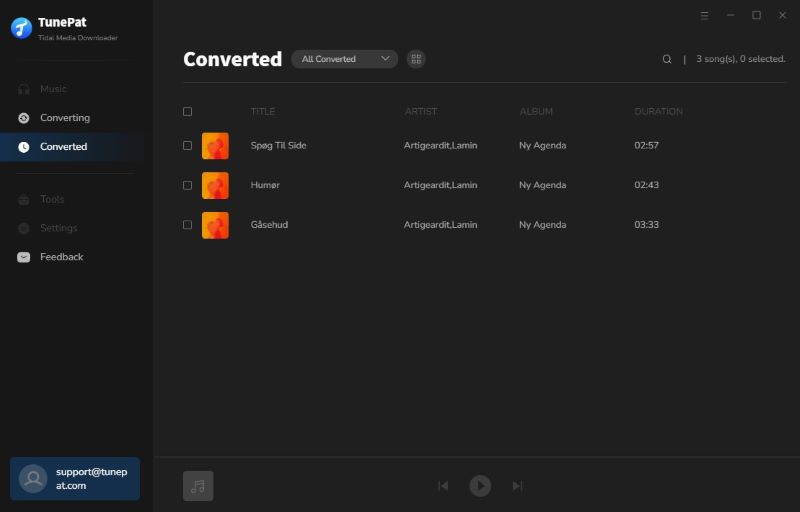 How to Use TunePat Tidal Media Downloader Tools
TunePat Tidal Media Downloader also offers a range of useful tools. You can access these tools from the left toolbar by selecting the "Tools" option. Upon clicking, you will find three sections: Format Converter, Burn CD, and Tag Edit.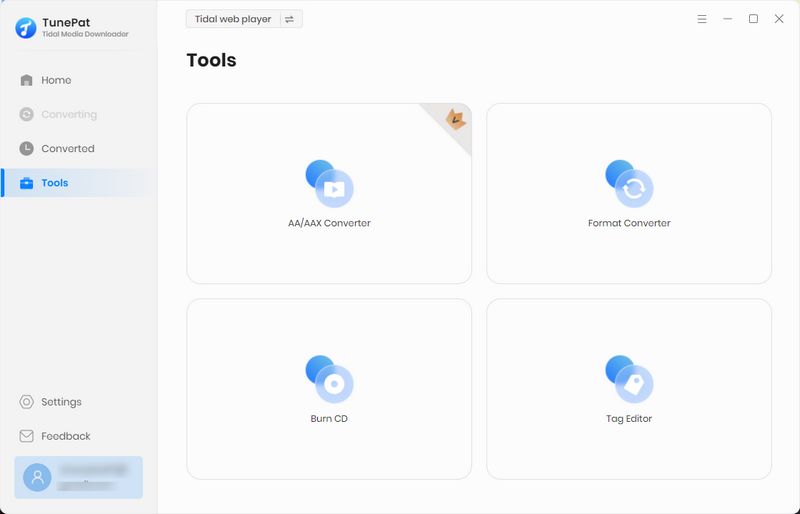 Format Converter:
The Format Converter tool is primarily designed for converting audio formats. To begin, click the "+ Add" button to select a local audio file from your computer. Then, click "Convert" to output it in your desired format. Currently, TunePat supports output audio formats such as MP3, M4A, FLAC, WAV, OGG, and AIFF.
Burn CD:
The Burn CD module provides a convenient solution for users who want to burn converted songs onto CDs. By clicking the "+ Add" button, you can import the songs you have just converted into the list. Insert a blank disc into your CD or DVD burner, and then click "Burn" to initiate the burning process.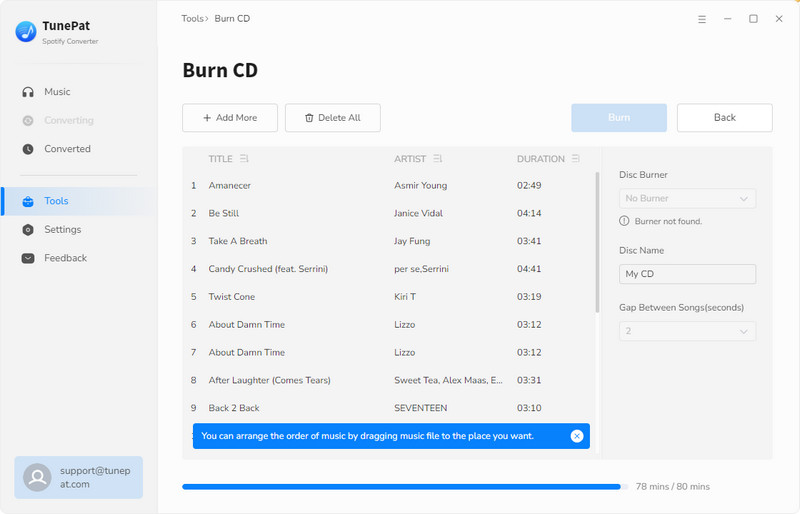 Tag Edit:
In the Tag Edit section, users can modify the tag information of songs. Once you have made the desired changes, simply click "Save" to preserve the modifications.