How to Download and Convert YouTube Music to AAC
Google started shutting down Google Play Music in September 2020, retiring the old service and suggesting their users move over to YouTube Music instead. Currently, YouTube Music is one of the world's most popular music streaming services. It is a music platform that allows us to discover new music, offers recommendations of playlists served to us based on our tastes, searches for the latest trending songs in our region, and more features. Similar to Spotify, YouTube Music also offers a free yet ad-supported tier. But this type of account can only work on smartphones when your phone screen is on and the app is open. If you want a plan that is also ideal for mobile listening, you can choose a YouTube Music Premium account. The YouTube Music Premium membership costs $9.99 a month.
YouTube Music Premium subscribers are free to adjust the audio streaming quality on their computer or mobile devices. However, as laid out on the Google support page, users can choose from Low, Normal, High, and Always High. The default option is Normal. It can reach up to 128 kbps AAC. If switching to High mode, you can get an upper bound of 256 kbps AAC.
Of course, due to the limitations of the music streaming platform itself, even if you can download YouTube Music for offline listening, you still can't get the real AAC audio file. If you are curious about saving YouTube Music as local files and listening to them on different devices offline, we gathered the top method you need to know about how to download and convert YouTube Music in AAC format.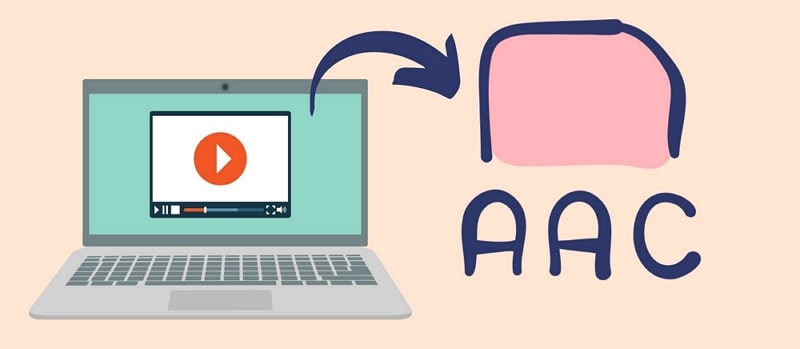 Part 1. What is AAC Format
What is an AAC File?
An AAC file is an audio file similar to an .MP3 file but with some performance optimizations based on MP3. AAC is a format compressed using Advanced Audio Coding. This lossy compression allows audio to maintain a quality that is almost indistinguishable from the original audio source. Therefore, many well-known manufacturers are developing the AAC standard, such as LG Electronics, Dolby, Sony, and Panasonic. There are also some cell phones or apps that utilize AAC as their default method for encoding audio. Examples include iPhone, Apple iTunes, Apple Music, the iTunes Music Store, etc.
The AAC format is a very good choice for compressing music data. And one thing you should note is that although the .aac extension is sometimes used for AAC-encoded files, they are often saved with an .M4A file extension.
How to Open an AAC File?
You can open an AAC file with iTunes. On a Mac or MacBook, use the Add to Library option. For a Windows computer, choose Add File to Library option or Add Folder to Library option.
You can also play AAC files with Nullsoft Winamp (Windows), VideoLAN VLC media player, Adobe Audition, and MPlayer. What's more, some apps can also be fully compatible with AAC files, including Apple Music, olimsoft OPlayer, and Videolabs VLC for Android.
Part 2. How to Download YouTube Playlists in AAC Format
The audio files of YouTube Music itself are in AAC format, but any music streaming song is aiming to obtain music by subscription instead of gaining a perpetual right to use a song or a playlist. That is to say, if you want to export normal AAC files from YouTube Music, you need the help of third-party tools. Because you need to remove the restrictions under the special mechanism first. These restrictions exist even if you are a YouTube Music Premium subscriber.
In this way, the key question becomes how to choose a simple, practical, and efficient tool. You don't need to worry, there are quite a few third-party tools on the market that can solve this problem very well. Among them, our most recommended is TunePat YouTube Music Converter. It is a very professional music conversion tool that is compatible with both Windows and Mac. The software can help you convert and get the YouTube Music playlist you want at 10X speed and the ID3 tags of these songs will be preserved. This program is also very friendly to people who are not very familiar with computer operation because you can get the audio files you want from YouTube Music in various formats with just a few clicks of the operation buttons.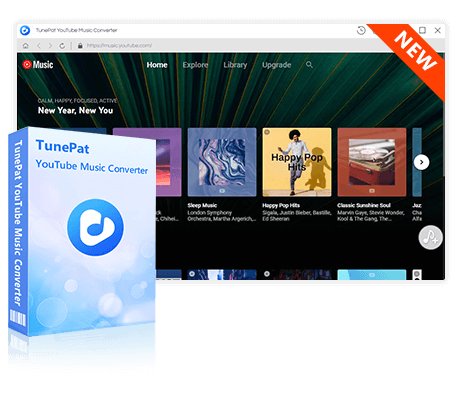 TunePat YouTube Music Converter
TunePat YouTube Music Converter helps you download and convert all YouTube Music songs and playlists to MP3 and other common formats.
Download songs, albums, playlists, and podcasts from YouTube Music.
Convert YouTube Music songs to MP3/AAC/WAV/FLAC/AIFF/ALAC.
Preserve the original quality of the songs after conversion.
Keep ID3 tags including Title, Album, Artist, etc.
Save music videos in MP4 format of up to 4K quality.
Step 1 Open the Built-in TunePat YouTube Music Web Player
Click on the Download button above to get TunePat YouTube Music Computer onto your Windows or Mac. Run it and it will automatically open the in-built YouTube Music web player. If the web player is not activated, please click on the "Open the webplayer window" button on the home page. Then you will be navigated to a built-in YouTube Music web player. To connect to the music library, you must follow the on-screen tips to log in with your YouTube Music account.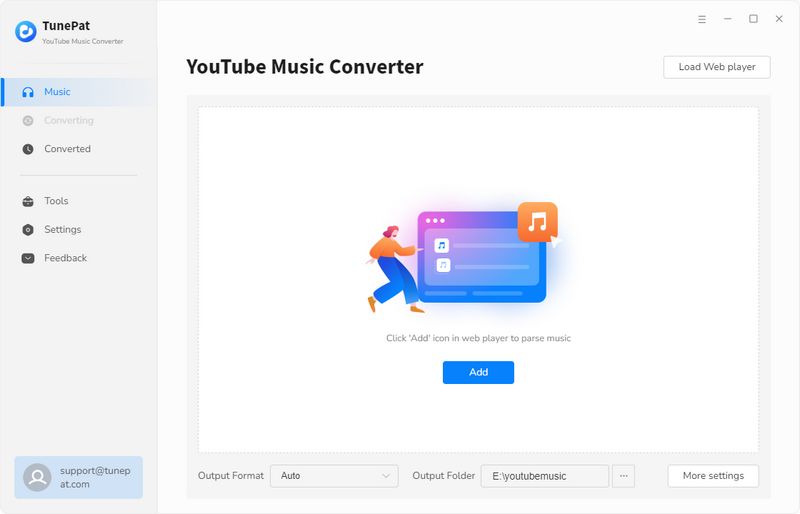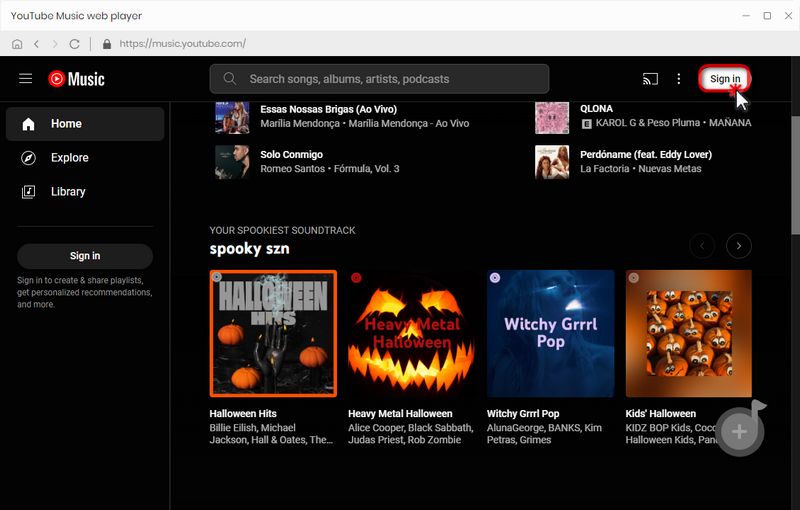 Step 2 Change the Output Settings
Before choosing songs to convert, please click on the "Settings" icon from the lower left corner to set up the output parameters. From the pop-up window, you can customize the output format (Here we choose AAC), bit rate, sample rate, output folder, and more.
Parameters that you can customize include:
Output Format: Auto, MP3, AAC, WAV, FLAC, AIFF, ALAC
Bit Rate: 320kbps, 256kbps, 192kbps, 128kbps
Sample Rate: 192 kHz, 96 kHz, 48 kHz, 44.1 kHz
Output File Name: Track Number, Title, Artist, Album, Playlist Index, Year
Output Organized: None, Playlist, Artist, Album, Artist/Album, Album/Artist, Playlist/Artist, Playlist/Album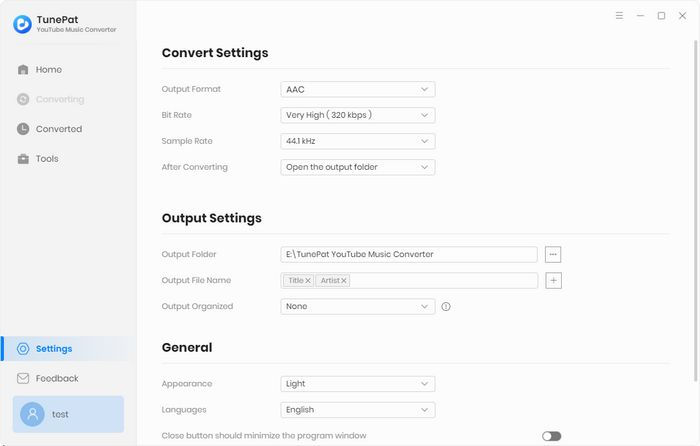 Step 3 Download YouTube Music Tracks to Local Files
Go to any playlist, album, or song that you want to get downloaded on your computer as AAC files. After making an entry into any playlist or album, you will see a "Click to add" button. Click this button to load all songs from this playlist and select the songs you want to download by clicking "Add". To start a conversion instantaneously, choose "Convert". If you tend to download more songs from other playlists, choose "Add More".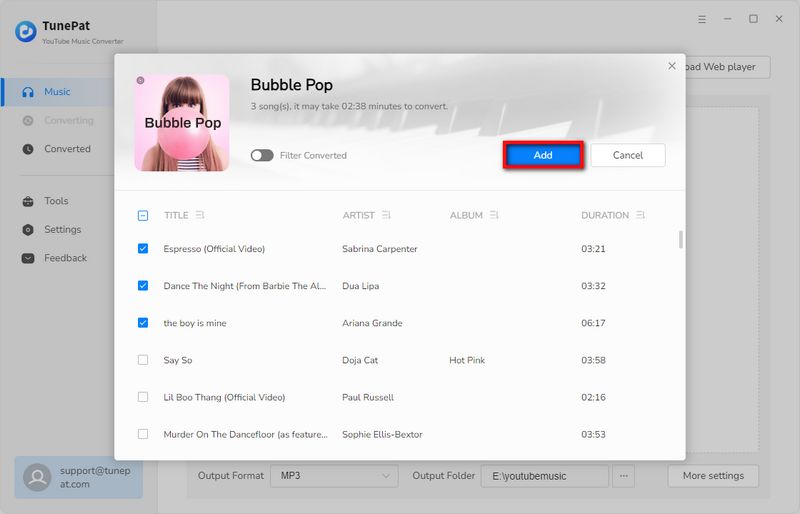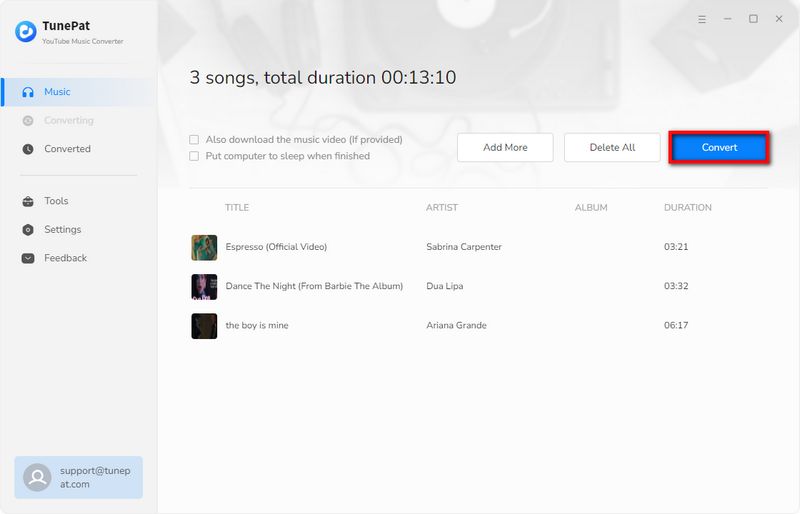 After the conversion is complete, you can view the YouTube Music saved in AAC format in the "Converted" section or a local folder.
Conclusion
Now you should have a very clear understanding that you can easily download YouTube Music to AAC format by the method we mentioned above. Not only that, with the TunePat YouTube Music Converter, you can also convert songs to other formats, such as MP3, FLAC, WAV, AIFF, or ALAC. In just a few steps, all your YouTube Music questions will be solved. Downloaded songs can be moved to any other program or device at will. Sharing playlists becomes an easier task. The ways of sharing have also become more diverse. Right now! You can download the free trial version and start converting songs right away.